The largest hole, through which billions of budget funds are lost, is state purchases. Under the new regime, their competitive element is gradually fading, and a corrupt mechanism for purchasing from one player is being used ever more often during the selection of a contractor for the supply of goods and services at public expense.
There are miracles out there. 2011 saw Ukrainian legislators passing the Law "On the Principles for Preventing and Counteracting Corruption", which strengthened relevant criminal and administrative accountability. Dmytro Sviatash, a Party of Regions MP, has already published respective data: 3,000 criminal cases were initiated against government officials this year on the grounds of corruption. Some of the persons involved even occupied relatively high posts, such as Vasyl Volha, the Head of the State Commission for the Regulation of the Financial Services Markets, or Volodymyr Halytsky, Head of the State Employment Service. However, in its 2011 report, Transparency International states that rather than decreasing, the corruption level in Ukraine has increased. Apparently, the number of initiated proceedings has no impact on the scope of corruption.
In terms of figures, there is some truth in the words of the Party of Regions' spokesman. The new wording of anti-corruption legislation (of April 7, 2011) expands opportunities for the prosecution of state and municipal officials and other public officers. Therefore 3,000 orders to initiate anti-corruption criminal proceedings is quite a realistic figure. However, it would be good if the authorities also published the number of cases that actually went to trial.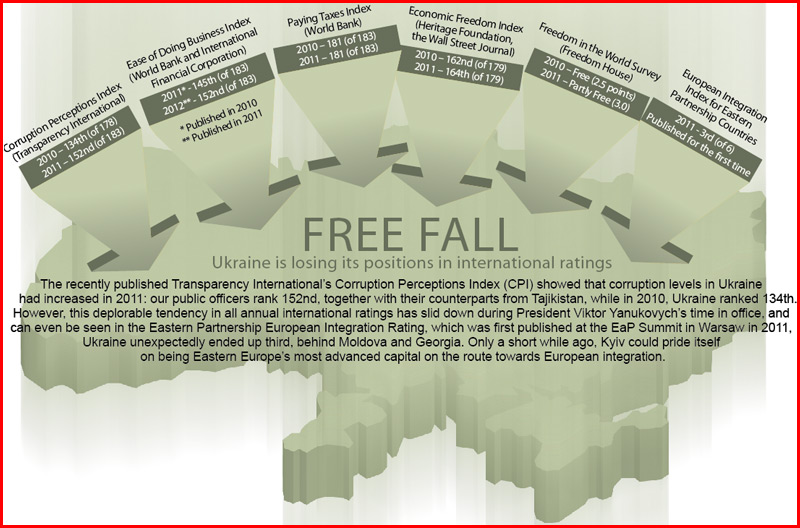 It is clear, though, that Transparency International takes into account qualitative, as opposed to quantitative figures. In other words, it draws a line between the corrupt activities of a public official who has received a present or a bribe in the amount of UAH 1,000, and those that caused losses to the state or society in the amount of millions of dollars or billions of hryvnias.
It is not the only rating that testifies to the professional inadequacy of the anti-corruption "reform team". Thus, Doing Business, a rating reflecting business climates in various countries, based on its assessment of data provided by entrepreneurs, Ukraine ranked 152nd out of 183 countries.
International organizations determine that so far, during 2010-2011, since Yanukovych's team has come in power, corruption levels and the risk of raider attacks have skyrocketed. Almost half of the entrepreneurs interviewed (46%) resort to "informal" methods of solving issues with authorities, an increase from 36% only two years ago. "Corruption" costs have nearly doubled, from 6% to 10% in businesses' expense structures.
Against the background of the incumbent government's "anticorruption efforts," raiding has experienced a second wind which, as everyone knows, never travels alone, but in tandem with corruption (in Prosecutors' Offices, the Ministry of Internal Affairs and courts). Moreover, the victims of such raids insist that they are not as refined today as they were three or four years ago, with court rulings and the involvement of registrars. Today, there is only a proposal that you sell your business for a sum, which, to put it mildly, is not quite adequate. Of course, you can decline such a modest offer, but they will return tomorrow with an offer that is halved.
By the way, to a large extent, the draft law on humanizing criminal liability, proposed by the President and already approved by parliament, will considerably disarm anti-corruption legislation, particularly that which pertains to raider attacks. More specifically, if the law takes effect, the individuals behind raiding schemes (such as dishonest business owners, notaries, and arbiters) will not go to prison for their actions - the problem can be solved with a token fine.
The largest hole, through which billions of budget funds are lost, is state purchases. Under the new regime, the competitive element is gradually being eliminated, and a corrupt mechanism of purchasing from one player is ever more prevalentwhen selecting a contractor for the procurement of goods and services at public expense. The law only allows the application of this procedure in exceptional cases. The last two years show that exceptions outnumber the rules. According to the assessment of Ukraine's Accounting Chamber, in 2010 the value of contracts which did not undergo the competitive procedure accounted for nearly 63% of the total value of the goods and services, purchased by the state. According to the Chamber's data, in 2010, the average costs of purchases made on a competitive basis totaled UAH 1.5mn, while the state spent UAH 51mn on purchases that were not made under the competitive procedure.
There have been no reports from the Accounting Chamber for 2011. However, we have data provided by the State Statistics Service, which shows that over the first three quarters, total expenditure, based on effective purchase contracts, amounted to UAH 72.618bn, of which UAH 25.782bn accounted for purchases from a single supplier.
Instances of abuse in this sector are numerous. More specifically, in 2011 alone, Altcom, a company known from numerous publications in the media (associated with Ukraine's Vice Prime Minister, Borys Kolesnikov), secured contracts from public utility companies and state-owned enterprises totaling UAH 6.435bn – as a rule, single-supplier purchases. A few months ago SJSC Chornomornaftogaz bought a floating rig in Singapore, costing USD 400mn, whereas according to experts, such rigs can be acquired for USD 250mn. In other words, through the purchase of one such rig, the country lost more than UAH 1bn from the state budget. However, law enforcement authorities are not interested in these facts at present, and no one has been removed from office.